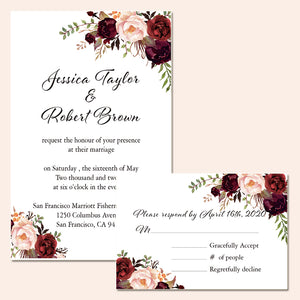 Blush Burgundy Floral Rustic Boho Wedding Invitation CIA003
Description:
Bold floral is the striking detail to this invitation. Featuring burgundy, marsala, blush, and wine tones, this invitation works in any season. Your guests will remember it long after the cake has been cut.

What's Included:
Invitation Card, Envelope

Measurements:
Invitation Card Dimensions: 4.72x 7.09 in (w x h)
Response Card Dimensions: 5.00 x 3.50 in (w x h)
Reception Card Dimensions: 5.00 x 3.50 in (w x h)
Accommodation Card Dimensions: 5.00 x 3.50 in (w x h)
Thank You Card: 5.00 x 3.50 in (w x h)
Outer Envelope: 7.48 x 5.24 in (w x h)
Envelopes for RSVP & Other Cards: 5.25 x 3.75 in (w x h)

Customization Service:
After you place the order, we will email you the eproof within 1-2 business days for you to check, and fix the eproof according to your request until you are satisfied with it.

The color of laser cut wedding invitation, glittery part and ribbon are able to customize. And we can change fonts, remove or add elements, change colors and even help with wedding etiquette. Just personalize your cards and make sure everything on your wedding invitations are perfect.


---
We Also Recommend